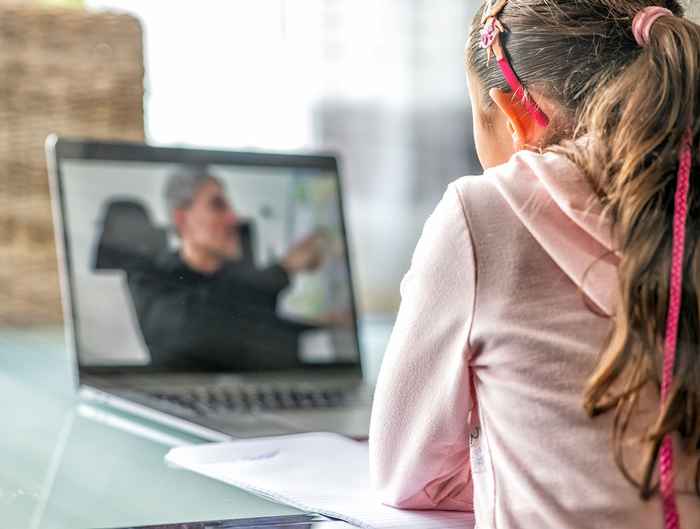 Using the digital tool Gebarenstrand (Sign Beach), children will be given the opportunity to become acquainted step by step with the signs and grammar of Sign Language of the Netherlands. The learning environment will be integrated into the digital language learning platform Taalzee (Language Sea), part of Prowise Learn, which is used by more than 2,000 primary schools in the Netherlands. As a result, Gebarenstrand will soon be available to more than 300,000 children in the Netherlands.
Learning signs and grammar in a playful way
The tool is meant for all children in primary education, thus not only for children who are deaf or hard of hearing, says research leader Floris Roelofsen from SignLab Amsterdam. 'Many schools make use of digital learning environments; not only for language, but also, for example, for arithmetic and topography. There is a large range of educational, adaptive games, which can be used by children to train their knowledge and skills, but not yet in the field of sign language. The idea behind Gebarenstrand is that as many children as possible come into contact with the basics of NGT in a playful way: they build vocabulary and are introduced to the grammar, such as the word order of sentences and how you make a plural.'
Research into sign language acquisition is still in its infancy stage: it is mostly based on a handful of children. Floris Roelofsen, professor and co-director of SignLab Amsterdam
The development of the tool will be preceded by lots of research, says Roelofsen. 'In order to make the learning environment adaptive, we need to be able to properly estimate how difficult something is; for example, which signs are more difficult to learn than others. That relates to, among other things, iconicity – how clear the relationship is between the sign and the meaning thereof – and how complex it is to make a sign.'
Collaboration within and outside the UvA
Gebarenstrand is one of the projects that was allocated a budget earlier this year within the theme 'Responsible Digital Transformations' of the 'Theme-based collaboration' programme (see box). The following UvA academics from different faculties are collaborating with each other in this project: Floris Roelofsen (Faculty of Science), Beyza Sümer (Faculty of Humanities) and Abe Hofman (Faculty of Social and Behavioural Sciences). There will also be close cooperation with the company Prowise, which develops digital learning solutions.
'This project will give us the opportunity to add new content to our product, which we would hardly be able to create on our own', says Waldemar Bartikowski, product manager at Prowise. 'We do not offer any games related to sign language to our users so far, but we think it is very worthwhile to allow them to become acquainted with it. When developing the tool, the perspective of the UvA researchers is of great value: their research allows us to improve our product, where necessary, in order to ensure that it ties in as much as possible with the needs of the children who make use of it.' And the collaboration is of great added value to the researchers too, says Roelofsen: 'Prowise has all of the knowledge in-house that is indispensable when developing digital learning aids.'
Research into language acquisition
The project will not only contribute to greater awareness of NGT in Dutch society, but will also provide a unique window on how children learn a visual language like NGT, and on digital learning in general. 'Up until now, language acquisition research has primarily focused on spoken languages', says Roelofsen. 'By comparison, research into sign language is still in its infancy stage: research into language acquisition of NGT is mostly based on a handful of children. Conversely, our digital learning environment can yield data from hundreds of thousands of children, for example about which signs and grammar rules they find most difficult to learn. That data is very useful for improving and refining training programmes in the field of NGT.'
The popularity of language apps like Duolingo has grown considerably in recent years, but nothing like that exists yet for NGT. Floris Roelofsen, professor and co-director of SignLab Amsterdam
And the latter is sorely needed, says Roelofsen, who is himself the father of a deaf daughter. This is because there are few learning aids available at present for anyone who wants to learn sign language – with all the associated consequences. Roelofsen: 'The overwhelming majority – about 95% – of deaf children have hearing parents, and the majority of those parents do not manage to learn sign language properly. It is also very difficult, because just think about it: if you want to learn Spanish, for example, you can go to Spain for a while to completely immerse yourself in the language, but that possibility does not exist in the case of sign language. And you can't refer to a book either, because it is a visual language. The popularity of language apps like Duolingo has grown considerably in recent years, but nothing like that exists yet for NGT.'
Contribution to a more inclusive society
The researchers want to help bridge that gap with Gebarenstrand: through the tool, children will soon be exposed to sign language at a young age. In this way, the project will contribute to a more inclusive society, in which sign language occupies a more prominent place than is currently the case. It is a wonderful example of how digital technologies can be used to create greater equality in society – one of the main objectives of the research theme Responsible Digital Transformations. The theme connects and supports UvA researchers on the basis of the conviction that digital technologies must be used to increase the well-being of individuals and society.
'At Prowise, we believe it is great to be able to support research on sign language in this way', concludes Bartikowski as well. 'The project will help us to understand how sign language is acquired, and what problems they encounter during their learning process. Hopefully, this will yield new insights into how to improve the way sign language is taught.'